AC/DC Memory wattmetr W4320.
Basic description: AC / DC wattmeter with memory, it can measure voltage, current, power, charge, duty cycle, power factor, frequency and store value of energy and charge in the last days, months and years.
click to enlarge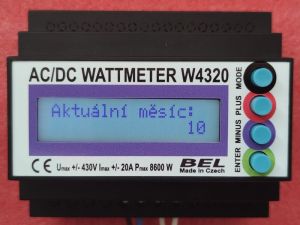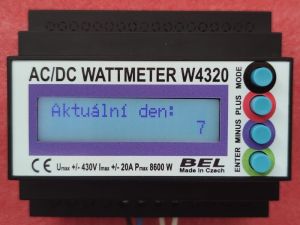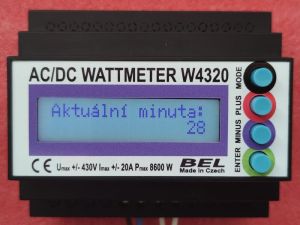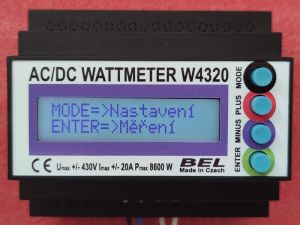 Price with VAT :
2 200,00 Kč
VAT:
21 %
Availability:

In stock
| | | | | |
| --- | --- | --- | --- | --- |
| 1 + | | 1 818,20 Kč | | 2 200,00 Kč |
| 2 + | 1 818,20 Kč | 1 727,30 Kč | 2 200,00 Kč | 2 090,00 Kč |
| 5 + | 1 818,20 Kč | 1 636,40 Kč | 2 200,00 Kč | 1 980,00 Kč |
Wattmeter W4320 is a measuring device designed to measure DC and AC voltage and current,
power, energy, charge, frequency, power factor and duty cycle. It can operate with a voltage from ± 60 to ± 430 V (peak) and with a current from 0 to ± 20 A (peak). It measures the mean and rms value for voltage and current. The measured energy and charge values are stored in a memory for later display. Energy is stored for the last 255 days, 60 months and 10 years, charge is stored for the last 81 days and 12 months. Measured and stored data are displayed on a two-line backlit LCD display. There are four buttons on the front panel for control. There are 4 terminals for connection to the electrical circuit. The wattmeter is housed in a plastic box for mounting on a DIN rail. Display languages are Czech, English and German.
How does a wattmeter work?
A wattmeter is connected between the source and the appliance. It is powered directly from the measured source. It constantly measures voltage and current flowing and calculates the displayed values every second from the measured values: mean and rms voltage, mean and rms current, power, frequency, duty cycle, power factor, energy and charge. Due to the measurement principle used, the wattmeter, unlike most common measuring instruments, can measure the true RMS value of current and voltage, regardless of the course of voltage or current. At every midnight, the wattmeter stores the energy and charge values measured the previous day in all energy and charge memories. Wattmeter saves the measurement results every 12 minutes, so it can follow up on the previous measurement even after the power supply is restored after a power failure, even if the failure takes place overnight or even several days. A typical case where such regular outages occur is in circuits with photovoltaic panels, where the power supply is temporarily interrupted at sunset.